Euler Update [24 August 2022]
Let's recap what has happened over the past few weeks!
Keep up-to-date!
Check out last month's summary newsletter, if you've been missing out on our recent progress, or continue reading below for the latest news.
Euler Governance passed eIP14 which upgraded the protocol to use Chainlink, added a new method for gas efficient flash loans, and a number of other improvements.
eIP16 is now live for voting and aims to change stETH pricing to Chainlink and amend the interest rate model.
Another proposal is under request for comment in the forums and aims to change the voting system and increase the number of votes needed for Quorum.
Epoch 10 underway, check out some tips on voting. Users can now get alerts about liquidations on Euler via Twitter. Euler Labs Office Hours were held on Aug 23.
The DeFi Investor wrote a thread on Euler's liquidation process, and Guillaume Lambert wrote about perpetual options on power perpetuals using Euler.
Seraphim wrote about how the new Chainlink integration could empower Euler's stETH/wstETH markets. He also commented on one trade strategy ahead of ETH Merge and a potential risk.
Brandon Neal was featured in Cointelegraph Innovation Circle articles. Brandon will also be on stage at Messari's Mainnet 2022 in NYC on 21-23 Sept.
Euler protocol was integrated in DefiLlama's liquidation levels dashboard, while DeFiYield.App has integrated Euler protocol into their platform.
Euler currently has a total supply of $385.46M with TVL of $217.53M and $167.93M in total borrowed. New markets were activated, including FPIS, FRAX and WAMPL, while the reserves have increased to $1.14M. There are 4,277 lenders and 711 borrowers across 91 markets.
---
Career Opportunities
---
Progress Updates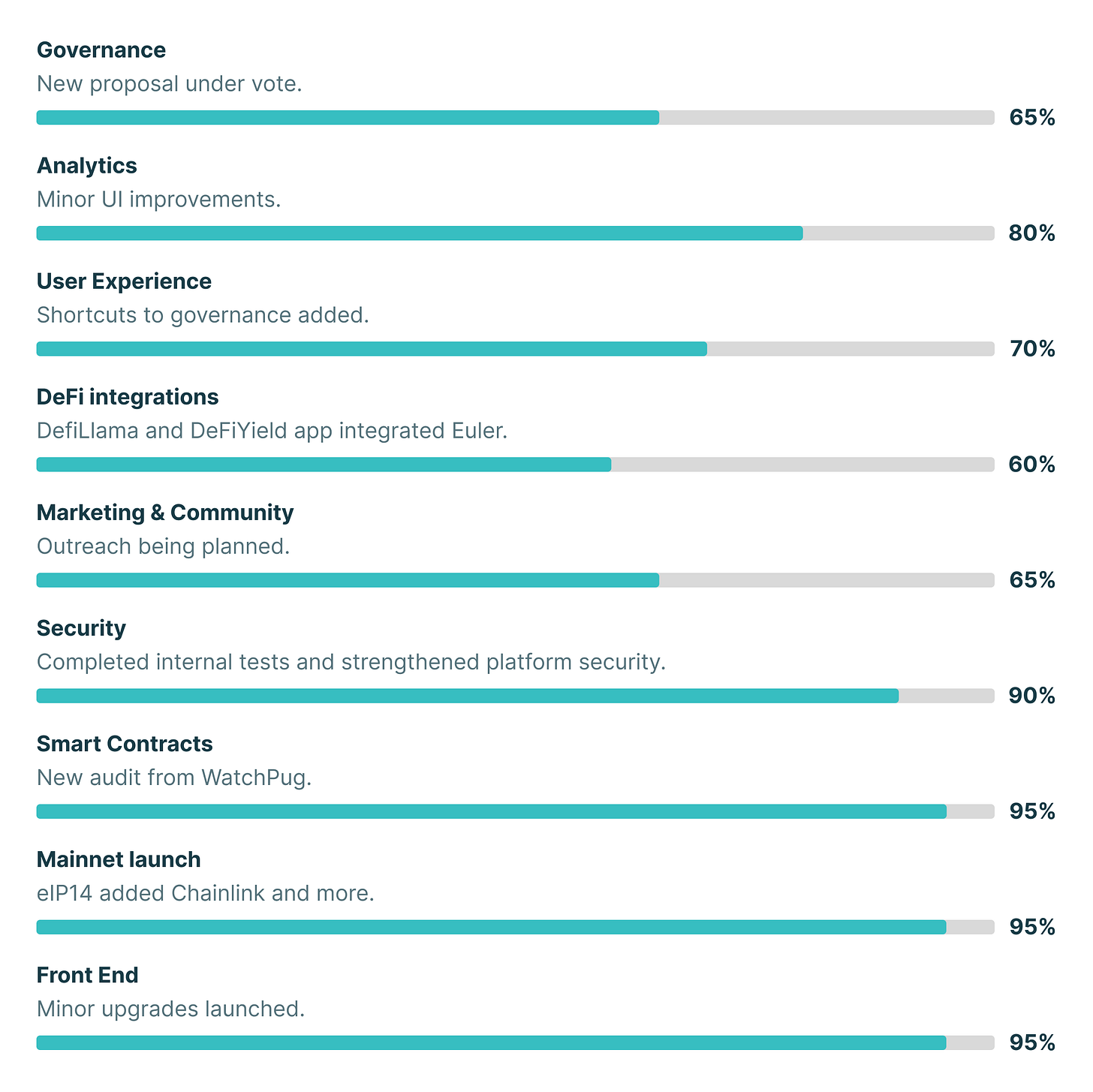 ---
Euler Stats

---
Market Stats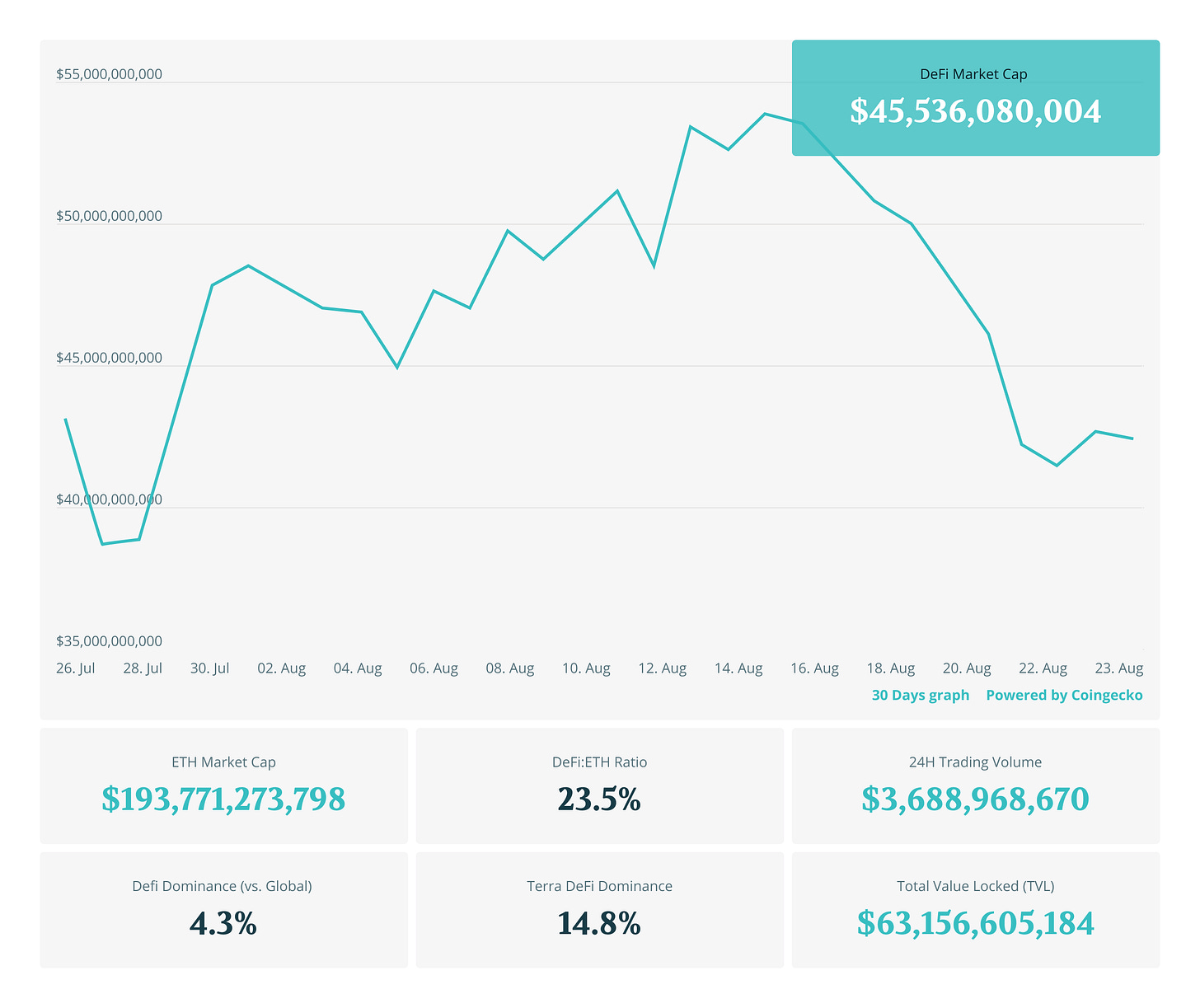 ---
Partner News
Haun Ventures discussed Euler with TechCrunch.
Variant's Spencer Noon gave Euler a brief shoutout.
Lemniscap participated in Odsy Network's pre-seed round.
---
Tweet of the Week
This content is brought to you by Euler Labs, which wants you to know a few important things.
This content is provided by Euler Labs, Ltd., for informational purposes only and should not be interpreted as investment, tax, legal, insurance, or business advice. Euler Labs, Ltd, is an independent software development company.
Neither Euler Labs, Ltd. nor any of its owners, members, directors, officers, employees, agents, independent contractors or affiliates are registered as an investment advisor, broker-dealer, futures commission merchant or commodity trading advisor or are members of any self-regulatory organization.
The information provided herein is not intended to be, and should not be construed in any manner whatsoever, as personalized advice or advice tailored to the needs of any specific person. Nothing on the Website should be construed as an offer to sell, a solicitation of an offer to buy, or a recommendation for any asset or transaction.
Euler Labs Ltd, does not represent or speak for on or behalf of Euler Finance or the users of Euler Finance. The commentary and opinions provided by Euler Labs Ltd., are for general informational purposes only, are provided "AS IS," and without any warranty of any kind. To the best of our knowledge and belief, all information contained herein is accurate and reliable, and has been obtained from public sources we believe to be accurate and reliable at the time of publication.
All content provided is presented only as of the date published or indicated, and may be superseded by subsequent events or for other reasons. As events markets change continuously, previously published information and data may not be current and should not be relied upon.